Nanoil is different than any other product. It presents hair with beauty, happiness and relief. It is loved by women all over the world thanks to the finest quality and all-natural products, and amazing aroma. Meet Nanoil for medium porosity hair.
We like to look spectacular – whether we have a big night out or simply go out. Healthy hair lets us feel good about ourselves every day. You are wondering how much time you need to make the dream come true, we are giving a hint.
Six letters, six oils and six additional ingredients enhancing the composition. NANOIL – conditioning oil for three hair types that:
combines the highest quality, perfectly selected, natural oils,
works inside and on hair and scalp surface,
contains two complexes: anti hair loss Kerastim; Baicapil for hair growth,
does not weigh hair down because of weightless formula and quick absorption.
Meet Nanoil for medium porosity hair!
Treat your hair to a piece of heaven and let best vegetable oils take care of your hairdo. Your hair condition is not important. You will find the version of Nanoil hair oil that works best for you. There is no need to have dozens cosmetics for every problem. One product of precise action is enough.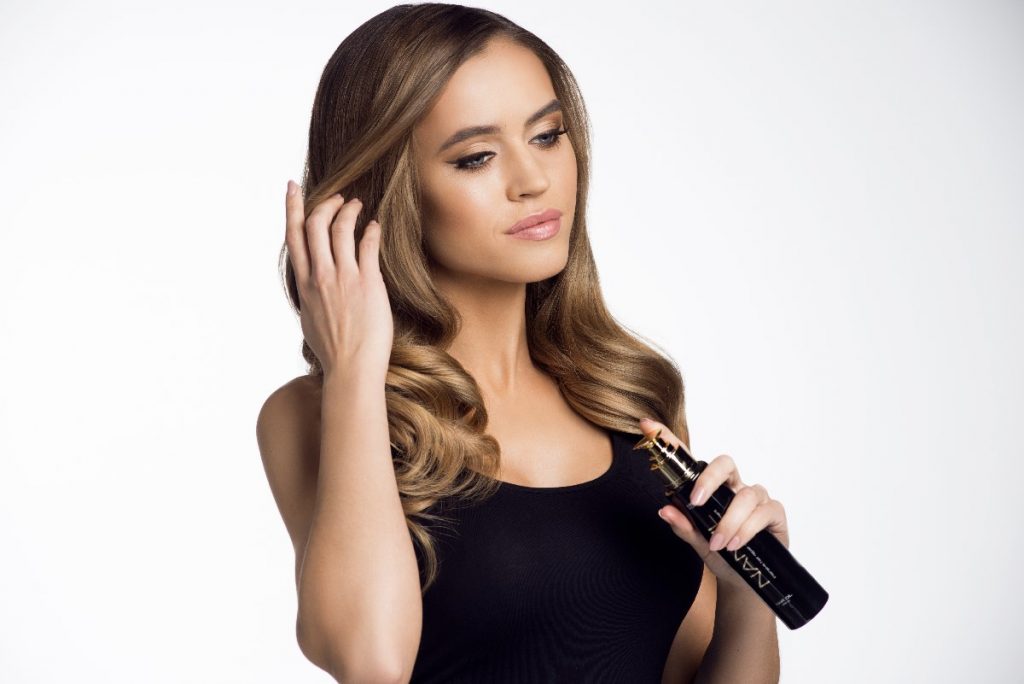 Why is Nanoil hair oil better? It works more deeply than other hair conditioners that improve hair look until the next wash. It can be used like other natural hair oils thus also in scalp care. Most of all, it offers the best selection of ingredients – the combination of traditional oiling and advanced solutions.
Nanoil for medium porosity hair contains:
Macadamia Nut Oil
Jojoba Oil
Argan Oil
Maracuja Oil (passionfruit)
Marula Oil
Coconut Oil
Many years of research showed that damages in hair structure are defined as hair porosity. Hence the name – Nanoil for medium porosity hair that has raised cuticle scales. The experiments proved that the cuticles must be flexible to keep hair healthy and protected. That is why hair care must be suitable – it must keep the scales from opening because this is how hair loses moisture, protection and becomes rough.
If you want to prevent such situations, reach out for a product that treats hair structure seriously and does not avoid this topic e.g. Nanoil for medium porosity hair.
HOW DOES IT WORK? It provides a four-stage hair care. It works everywhere your hairdo needs: in the scalp, inside the hair, on the hair surface. It takes care of sensitive hair bulbs and protects hair ends that are exposed to splitting.
REPAIR. It is something weak hair needs most. This product makes it possible. It rebuilds damage inside the hair and on the surface of the hair. It closes raised scales and seals disturbed protective layer.
REINFORCEMENT. Next step in medium porosity hair care is strengthening. Nanoil hair oil works on the scalp. Hair bulbs are strongly rooted whereas hair gets stronger and thicker. Strands stop falling out.
BEAUTIFYING. Once we make hair and scalp healthy, we can improve visual effects. The oil adds shine, enhances the colour, smooths and softens. It also allows for easier styling and tames unruly, frizzy strands.
PROTECTION. The last stage involves giving hair non-stop protection from damaging agents that surround us. Nanoil hair oil works as a shield that keeps toxins from getting inside. It contains UV filter so it protects even on sunny, hot days.
This product makes hair care much easier. Nanoil for medium porosity hair is a weightless, delicate and extremely effective formula.
1-2 pumps are enough to add gloss and restore health. There is only one condition: regular application, at least with every hair wash.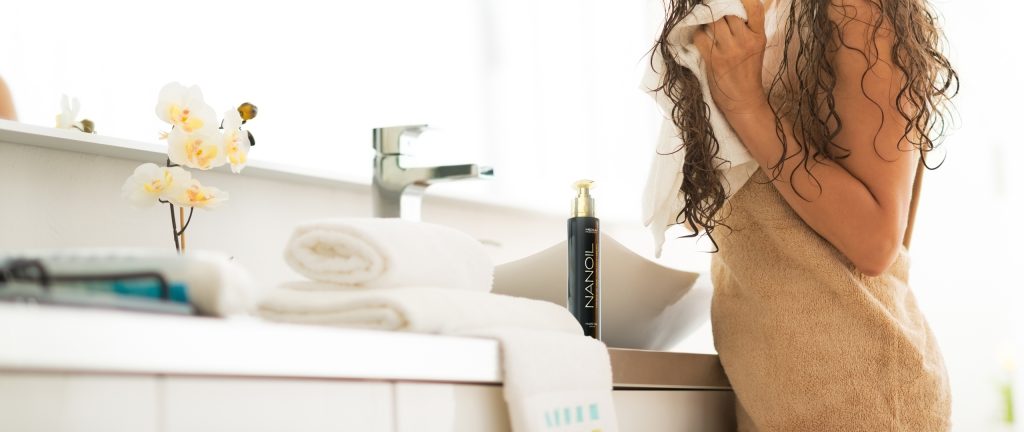 Directions for use:
apply to dry or damp hair, before or after washing,
use in hot oil treatment, sauna for hair,
apply during the day for smooth and shiny hairdo,
apply prior to styling to make it easier or after styling for long-lasting effects,
add it to other products or home made cosmetics.
Nanoil hair oils are the only products that match your needs. The series also offers two other versions: for low porosity hair (quite healthy) and high porosity hair (very damaged). Each version is all-natural, safe and looks very tasteful. Nanoil for medium porosity hair is most popular because this hair type is most common.
Nanoil hair oil: the power of natural oils captured in a 100 ml bottle!